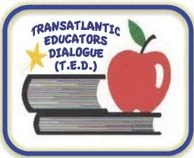 January 10 – May 2, 2021
Applications for the 2021 TED Alumni Program have closed.
What is the TED Alumni Program?
TED represents a unique experience in educational diplomacy and facilitates the exploration of new and diverse cultures. It is also a fantastic chance to build networks with European colleagues and foster global learning opportunities.
The Transatlantic Educators Dialogue (TED) Alumni Program is an opportunity for educators who have participated in any of the previous cohorts of TED to return and further collaborate with their transatlantic peers. Teachers who have not previously participated in the TED Program are ineligible for the alumni program but are encouraged to apply to this year's regular program (click here for more information).

Where does the TED Alumni Program meet?
The TED Alumni program meets virtually, so participants may participate anywhere they are located, provided they have access to the internet. Whole group sessions are synchronous while collaboration groups will decide as a group how to best meet and work asynchronously.
Synchronous sessions are scheduled for ninety minutes using Zoom. Participants will utilize Moodle for asynchronous aspects of the program.
Participants will meet online 11:00am - 12:30 pm (U.S. Central Time Zone) / 4:00 - 5:30 pm (Greenwich Mean Time) on the following 11 Sundays.
| | | |
| --- | --- | --- |
| Session | Date       | Topic/Goal |
| 1 | January 10     | Introductions/meet participants |
| 2 | January 17     | Guest presenter and exploring possible group topics/team building |
| 3 | January 24     | Develop small groups and begin working on projects |
| 4 | January 31       | Guest presenter (30 min) and group work time |
| 5 | February 7       | Guest presenter (30 min) and group work time |
| 6 | February 21         | Guest presenter (30 min) and group work time |
| 7 | March 7     | Guest presenter (30 min) and group work time |
| 8 | March 21       | Guest presenter (30 min) and group work time |
| 9 | April 11      | Work on group projects |
| 10 | April 18      | Work on group projects |
| 11 | May 2      | Project presentations |
How is the alumni program different than the regular program?
The alumni program is intended to be a collaboration workshop in which educators develop their own projects in self-selected groups, work on those projects throughout the program, and periodically update the full alumni cohort on their group project.

Rather than being focused on discrete predetermined weekly topics, each week's synchronous section will begin with a guest presentation before focusing on the continuing group collaborations. A majority of the synchronously scheduled time consists of participants working in small groups but also include some time for full group discussions.

Group collaboration projects can include, but are not limited to: student-to-student interactions, collaborative curriculum development, student or teacher exchange programs, and developing teacher professional development programming. TED alumni are encouraged to bring their own ideas and help shape the content of the weekly sessions.

All educators are encouraged to provide feedback, support, and suggestions on group projects of which they are not directly involved.
Will I earn professional development credit for participating in the TED Alumni Program?
Upon successful completion, all participants will receive a Certification of Completion. Available to all participants (U.S. and European) upon successful completion of the program.
Illinois teachers interested in receiving Professional Development Hours (PDH) from the University of Illinois for this program must contact the program coordinator in advance. U.S. teachers from other states may use this program to register for professional development credit in their home states. 
How much does the TED Alumni Program cost?
There is no application fee for TED. Please submit your application using the online application form available here.
TED Alumni Synchronous Meeting Schedule
30 minutes – Welcome and guest presentation

45 minutes – Small group collaboration time

15 minutes – Full group share out time
Testimonials
"I have participated in TED for three years, and each year I am inspired by teachers from around Europe and the U.S. to be more innovative and more connected beyond my classroom. The presentations each week highlight great teachers who are willing to share their knowledge and expertise. It's like the recharge from going to a conference, but every week. Last year I got a kick out of telling my students I was presenting with a teacher from Norway. When I told them we were meeting to plan the presentation, my students wanted to know where we were meeting. The idea of working online with someone so far away didn't cross their minds, but my experience with TED makes it seem normal." – Catherine Mein (Huxley, Iowa)
How to participate in the TED Alumni Program?
If you have questions about the program or would like additional information, please contact the TED Alumni Program Moderator, Jennifer Smith, at smije@sages.us.
Sponsored by the European Union Center and College of Education at the University of Illinois at Urbana-Champaign.
---
The EU Center is a National Resource Center funded through the US Department of Education's Title VI Grant and a Jean Monnet Center of Excellence funded through the European Union.