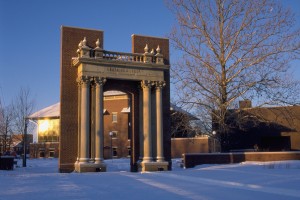 Conversation on Transatlanticism and Europe (CEURO)
The Conversation on Transatlanticism and Europe program (CEURO, 2017-2019) was a partnership between the European Union Center (EUC) at the University of Illinois and the Center for European Studies (CES) at KU Leuven.  It brought together students from the two Jean Monnet Centers of Excellence in a synchronous, virtually connected classroom that featured lectures delivered by professors on both sides of the Atlantic.  The program also offered a Spring School, where Illinois students visited their Leuven classmates and professors for a week in Belgium, and in return hosted their Leuven colleagues for a week in the United States.  The classes and spring school were enhanced by a number of related activities, including roundtables, workshops, a blog, and a co-authored ebook on Transatlantic relations.
For more on the people who made CEURO possible, meet our faculty and staff. For more on CEURO education opportunities, see the links below.