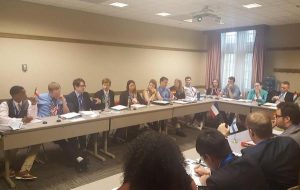 The European Union Center supports the University of Illinois Model EU team, a student-led RSO that competes annually at the Midwest Model EU contest.  The Model EU provides undergraduate students with an opportunity to learn about and simulate the inner workings of the European Union institutions while attending conferences around the United States.  The EU is becoming an increasingly important organization in the world and Model European Union provides students an ability to learn how bills are debated and passed.  It is an excellent opportunity for any student studying or interested in European, International, or Political Studies.
If you are an undergraduate student and would like to find out more about the Model EU, or if you would like to participate, contact the Model EU RSO president, Ben Trouvais (bat2@illinois.edu).
Follow the Model E.U. Facebook page.