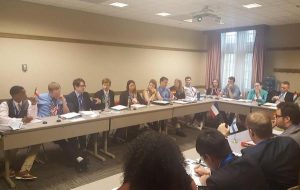 The European Union Center supports the University of Illinois Model EU team, a student-led RSO that competes annually at the Midwest Model EU contest.  The Model EU provides undergraduate students with an opportunity to learn about and simulate the inner workings of the European Union institutions while attending conferences around the United States.  The EU is becoming an increasingly important organization in the world and Model European Union provides students an ability to learn how bills are debated and passed.  It is an excellent opportunity for any student studying or interested in European, International, or Political Studies.
If you are an undergraduate student and would like to find out more about the Model EU, or if you would like to participate, contact eucenter@illinois.edu.
The 2022 University of Illinois Model EU team won the third place award at the Midwest model EU at Indiana University in April 2022. To learn more about the team, please see here.
In the students' words:
"I was grateful to attend the Model EU tournament this year with Professor Kourtikakis and spend time with my team, students from other universities, and our guest speakers. Model EU is an excellent way to simulate the government system in the European Union and learn more about diplomacy." — Maha Kalota (Political Science and English, expected 2023)
"I'm very glad to have participated in the MMEU. As an engineering physics major, it's easy to feel detached from politics of the world, and participating in the MMEU is a perfect remedy to that. There, I had a great experience and met great people from across the country." — Chieh Hsu (Global Studies and Physics, expected 2024)