Image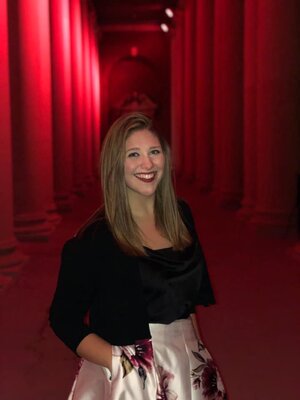 Allison Wheeler is a 2020 graduate of the MAEUS program and successfully defended and completed her research on populism for her master's thesis project. She was a 5-year BA/MA student, a 2019-2020 FLAS Fellow, and a graduate research assistant for the EUC from Spring 2019 to Spring 2020. After graduation, Allison was chosen to be a part of the inaugural class of Illini Science Policy Fellows and is currently working as a program coordinator with Illinois International's unit Global Education and Training.
In 1-2 sentences, can you tell us more about your MAEUS thesis topic?
For my thesis project, I worked with Dr. Carl Niekerk to dissect the narratives of twenty-first century populists from the EU and the United States. This was an effort to understand more about how populism manifests within Europe and between the EU and the U.S. today.
Do you have any blog posts you are working on or would like to highlight?
Through various courses, I have contributed several blog posts to the EUC Blog, as well as the CEURO Blog on topics like the state of the German political system and the 70th anniversary of NATO.
What is your favorite part of the MAEUS program?
The MAEUS program at Illinois is small, but mighty. Being a part of such a well-accredited European Union Center allowed my cohort and I such exciting events and programs to be a part of, like the KU Leuven Spring School that sent us to Leuven and Brussels, Belgium, to learn about the Transatlantic Partnership.
Do you have a favorite class you have taken as part of the MAEUS program?
I took a class with Professor Judith Pintar as a "special topics" course in EURO called "Global Informatics Seminar". This course is all about the politicization of Narrative AI, Propaganda, and Election Interference. As a class, we created our own world as a game and are using the tactics and strategies we have learned from our course material to simulate the spread of misinformation and propaganda within social media and diplomacy.
What are your hobbies outside of the program?
As an undergrad at Illinois as well, I was a proud member of the Marching Illini! Once I got into the program though, I became focused in on my work, though I still made time for hanging out with friends, going to local trivia nights, drinking lots of  coffee, and starting my journey with running!
Do you have anything else you would like to share?
I joined the MAEUS program through the 5 year BA/MA option, and I am so happy that I did! I got my bachelor's degrees from Illinois in LAS Global Studies and German Studies and was able to continue straight through to earn my MA. I've had the benefit of being at Illinois for a total of 5 years, but two or even 1 year master's programs happen so fast- so make sure that you take full advantage of what the EU Center and Illinois have to offer! Go to lectures, extra events, and your professors' office hours!