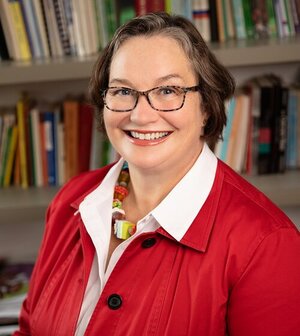 Cynthia Buckley is a Professor in Sociology.
What is the focus of your current work and/or subject of your current research?
A social demographer, my research focuses on the main drivers, and implications, of demographic change and population displacement across Eurasia. My publications appear in academic journals, policy briefs, assessment reports, and edited volumes. My current research includes a MINERVA funded investigation of state capacity challenges in healthcare (including COVID-19) and education in the multicultural countries of Estonia, Georgia, and Ukraine (Co-PI, with Erik Herron (PI) and Ralph Clem), a new Norwegian Research Council grant on shifting sociopolitical identities in Ukraine (PI Geir Flikke), and a solo book project on population change and social stability in Central Asia.
What classes do you teach? What are some of the topics of those classes?
SOC 165 Assimilation, Integration and Multiculturalism: Immigration in America (fall 2021) 
SOC 265 Central Asian Societies (spring 2022) 
SOC 270 Global Demography (fall 2021) 
SOC 488/596 Demographic Measurement, Assessment, and Estimation (spring 2022) 
SOC 596 Integrating Qualitative and Quantitative Methods
Do you have any recent awards, honors, or publications that you would like to highlight?
Selected to give the 2021 Jean and Denis Faculty Fellowship Lecture at Indiana University, "Population Change and Sociopolitical Stability in Central Asia." 
New publication: Cynthia Buckley, Ralph Clem, and Erik Herron. 2021. "Transitions in Global Health Diplomacy: Views of Donors During the COVID-19 Pandemic," forthcoming Fletcher Security Review.
What is a book (academic or non-academic, in or outside your field) that you think should be more widely read?
Absurdistan (novel) by Gary Shteyngart is a fabulously funny and insightful glimpse into the imperial tendencies and shortcomings of international development programs and the individuals working in them. I think every American should read it prior to traveling abroad.