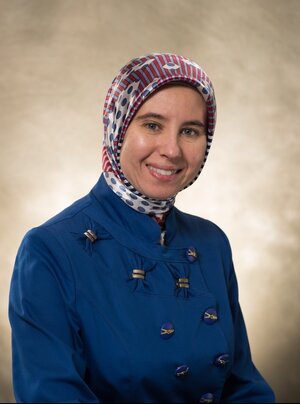 Eman Saadah is the Director of the Less Commonly Taught Languages Program and the Arabic Language Program in the Department of Linguistics.
What is the focus of your current work and/or subject of your current research?
I always utilize different resources and conduct research that inform my teaching practices. My recent research compares morphological acquisition of second language learners of Arabic with heritage speakers. My current work focuses on supporting language instructors in their efforts to adapt materials that were used in face-to-face mediums to the online format.
What classes do you teach? What are some of the topics of those classes?
I have taught all class levels in the Arabic Language Program. I teach upper division courses such as Advanced Standard Arabic, Business Arabic, Arabic Debate, etc. I also teach a course that is focused on the culture of the Arab world.
Do you have any recent awards, honors, or publications that you would like to highlight?
My name always appears on the List of Instructors Ranked Excellent by their Students. This attests to my outstanding teaching delivery. I have a forthcoming paper with a collaborator, which is going to be published in the next edition of the Arab Journal of Applied Linguistics. It is entitled "The Processing of Adjective Agreement Morphology in Native, Heritage, and L2 Arabic"
What is a book (academic or non-academic, in or outside your field) that you think should be more widely read?
The Autobiography of Malcolm X.
Is there any additional information or advice you'd like to share?
My students always tell me that learning a new language is considered one of the most cherished experiences they've had during their college careers. I add to this by saying that such an experience is particularly unique if the studied language is less commonly taught. It opens new doors to students, makes them more marketable as they seek employment after graduation, and allows them to connect with other people from different cultures. The ultimate goal for us in LCTL program is to make sure that we provide our students with education for intercultural citizenship and they are prepared to live in a world that is becoming more multi-cultural and multi-lingual. Through some generous grants, I was able to provide additional venues for the students in the Arabic and Persian programs to practice their languages with native speakers outside of the classroom. They work with language partners (who are refugees) to improve their Arabic skills. In the process they connect with them, learn their stories and get to know about interesting aspects of the culture.