January 14, 2024 - March 17, 2024
APPLY HERE (Deadline: December 15, 2023)
What is the Transatlantic Educators Dialogue (TED) Program?
The Transatlantic Educators Dialogue (TED) Program is a one of a kind opportunity for educators in the United States and Europe to come together online for shared exploration and examination of a variety of educational topics, such as global collaboration, supporting diverse learning needs, parental involvement, and technology in the classroom.
TED represents a unique experience in educational diplomacy and facilitates the exploration of new and diverse cultures. It is also a fantastic chance to build networks with fellow educators and foster global learning opportunities. 2024 marks the 15th year of the Transatlantic Education Dialogue program and we are excited to welcome a new cohort of teachers into the TED alumni network.
Who is involved with TED?
A total of 35-40 educators in the United States and Europe will be involved.
Participants may be current teachers, pre-service teacher education students, school administrators, graduate students, and education faculty.
Where does TED meet?
Participants can participate anywhere they are located, provided they have access to the internet. Program sessions are synchronous; group collaborations and discussion board responses take place asynchronously. TED focuses on collaboration and dialogue. This is at the forefront of everything we do.
Synchronous sessions take place weekly for ninety minutes using Zoom. This online application enables registered participants to simultaneously communicate with classmates by using microphones connected to their computers, typing into a shared chat-rooms, and using webcams and other capabilities to upload videos and picture images. 
Prior to each weekly session, participants will respond to thematic essential questions to initiate the conversations and represent diverse U.S. and European perspectives on the weekly topics. Articles, videos, and various other resources will be shared throughout the course.
Participants can share resources with other participants, post comments on topic-specific forums, and send messages to other participants.
Participants will meet on Zoom for 10 Sundays (January 14, 2024-March 17, 2024) at 12:00-1:30 pm (U.S. Central Time Zone), 5:00-6:30 pm (Greenwich Mean Time). 
Why participate in TED?
Learn about educational systems and realities in diverse cultural and policy contexts
Network with transatlantic counterparts
Access to opportunities for career development, professional reflection, and growth, acknowledged in an official capacity at the end of the program
Develop critical thinking and analytical skills, with a focus on making connections between current events and material covered in our discussions
Share experiences with other educators, maintain connections with other participants, and have your students engage in online classroom exchanges
Upon successful completion of the program, all participants will receive a Certification of Completion indicating the number of program hours (15). 
Illinois teachers interested in receiving Professional Development Hours (PDH) from the University of Illinois for this program must contact the program coordinator in advance. U.S. teachers not from Illinois may use this program to register for professional development credit in their home states. 
How much does TED cost?
There is no application fee for TED. Please submit your application using the online application form available here.
TED 2024 Schedule of Sessions
Please double-check the session start time for your time zone here.
| | | |
| --- | --- | --- |
| WEEK | DATE | THEME |
| 1 | January 14, 2024, 12 P.M. CST (U.S.) / 19.00 CET (Europe) | Introductions |
| 2 | January 21, 2024, 12 P.M. CST (U.S.) / 19.00 CET (Europe) | U.S. and European Schools: Similarities and Differences |
| 3 | January 28, 2024, 12 P.M. CST (U.S.) / 19.00 CET (Europe) | Global Collaborations: How Do We Get Started? |
| 4 | February 4, 2024, 12 P.M. CST (U.S.) / 19.00 CET (Europe) | Best Tech Week |
| 5 | February 11, 2024, 12 P.M. CST (U.S.) / 19.00 CET (Europe) | Socratic Discussion Week |
| 6 | February 18, 2024, 12 P.M. CST (U.S.) / 19.00 CET (Europe) | Triad Discussion Groups: Topics in Education |
| 7 | February 25, 2024, 12 P.M. CST (U.S.) / 19.00 CET (Europe) | Pedagogy and Instruction Week |
| 8 | March 3, 2024, 12 P.M. CST (U.S.) / 19.00 CET (Europe) | Student and Parental Involvement |
| 9 | March 10, 2024, 12 P.M. CDT (U.S.) / 18.00 CET (Europe) *please note earlier start time for European participants | Supporting Diverse Learning Needs |
| 10 | March 17, 2024, 12 P.M. CDT (U.S.) / 18.00 CET (Europe) *please note earlier start time for European participants | Best of TED Intersession |
Here is what participants from the 2023 TED program had to say:
"TED completely transformed my teaching. I teach in a very rural community in southern Vermont. Many of my students do not often have opportunities to travel outside of our state let alone see lands beyond the northern coast of New England. TED provided this opportunity. My students were partnered with a classroom in Lithuania. Jelena, my partner teacher, and I planned synchronous and asynchronous experiences for our students to participate in. Activities included making games for each other to play, teaching each other about our communities and sharing pictures and videos of what makes our towns special. The world was made bigger and simultaneously smaller and more connected over the course of 10 weeks. TED was a gift. In addition to connecting my students to a classroom across the ocean, I was able to broaden my professional network and learn from incredibly passionate and creative educators. My teaching has been so positively changed and my personal learning journey will forever reflect the lessons I learned and the experiences I had. My heart is full of endless gratitude." - Keighan Eaker (Middle School History Teacher, United States)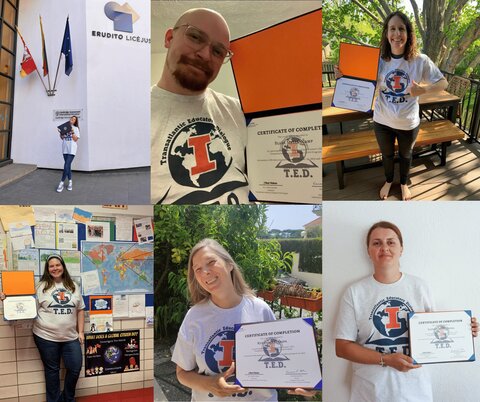 "TED... for me it was a Tremendous Educational Development, as most courses are based on asynchronous learning, while this course gave me experience of live collaboration with colleagues from all over the world. Moreover, we didn't just collaborate, but had lots of conversations to learn about each others' life and work. This experience was as valuable as travelling around the world would be as I got lots of interesting first-hand information on a wide variety of topics. Moreover, I met Keighan, my teacher-partner from across the ocean, who is a shining energetic personality full of great ideas that we are putting into practice step by step. So, if you are a teacher searching for exciting professional and personal experiences, don't hesitate to apply for TED 2024, TED 2025, etc. You'll get all possible help on your way from the coordinators. Good luck!" - Jelena Osipkova (Primary and Secondary School English Teacher, Lithuania)
"I have been a teacher for 15 years but the TED experience is the most collaborative one with the transnational colleagues in these 15 years. It is a great chance for me to discuss global teaching issues with the teachers from the USA, Europe and many different countries. I am really thrilled about the opportunities TED brings for me. Besides, TED is an incredible journey for me that I am still in contact with these transnational colleagues and planning new projects with our students. I am really proud of being a part of TED!!!" - Dilek Keçelioğlu (Secondary School English Teacher, Türkiye)
"TED provided me with an opportunity to connect with like-minded educators across the nation and throughout Europe. I enjoyed learning about our educational systems—the unique demands and expectations on all of us, and how world issues affect our educational systems in different ways. By participating in TED I was able to connect my students with students in Lithuania—as in our students *ACTUALLY* met. It was incredible! We made memories and connections that will last a life time! I believe whole-heartedly that these positive personal connections with people from cultures outside of our own will change the world for the better. Person by person!" - Cass Didier (High School Spanish Teacher, United States)
"The Transatlantic Educators Dialogue is one of the most unique and profound Professional Development experiences I've had as a teacher. I now feel that I'm a part of a global teaching community, learning through our in-depth discussions that educators across the globe are working through similar challenges in our schools and classrooms. After joining with a cohort of passionate teachers on both sides of the Atlantic, we have inspired each other, collaborated together, and our students' learning is all the richer for it." - Blake Mellencamp (7th Grade Language Arts Teacher, United States) 
How to participate in TED?
For further information, please contact the TED Moderator, Dr. Rhett Oldham (jmoldham@illinois.edu).
Sponsored by the European Union Center and College of Education at the University of Illinois at Urbana-Champaign.
---
The EU Center is a National Resource Center funded through the US Department of Education's Title VI Grant and a Jean Monnet Center of Excellence funded through the European Union.